Why Choose Us

Our main goal is to let engineers focus on engineering.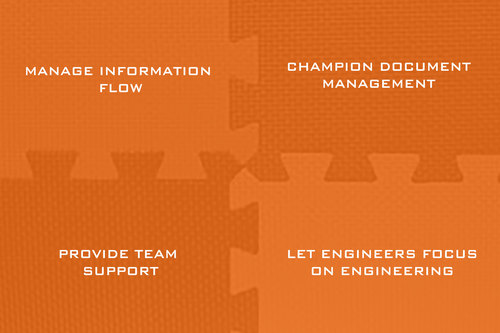 At J. Wilson & Associates we analyze and address your project needs based on time-tested, proven models of organization communication theory. Some projects benefit from having a consultant on-site, but for those that don't, we utilize easy to use, industry-leading collaboration software, managed on secure servers with state of the art security. This allows project team members to interact seamlessly and get to work quickly with minimal effort. The value of a person dedicated to reducing the noise that Office NPT can add to a project is significant compared to potential time and monetary losses from running a less efficient operation.
HIRE THE PERSON, GET THE COMPANY
You can find people on Craigslist. A "body shop" will send someone. What they will have in common is no preparation, no training, and little to no further communication from their supplier. The information they bring with them is all you've got; you're on your own. When you select a J. Wilson & Associates professional, however, you also get the company. You get the support and strength of a team who is accountable for the success of the individual by:
Providing guidance, training, and continuing education
Performing QA/QC checks and providing feedback
Offering best practices gained from experience
Maintaining high standards and demanding excellence
We maintain an open line of communication among all staff and alumni. We encourage networking, both in person and electronically, via private internal social networking, to draw from experiences and to incorporate continuous improvement that will add value to your project.
WE HIRE SMART PEOPLE TO DO SMART THINGS
 You can teach MS Word, and you can teach oil & gas and the "language" of the industries we serve, but you cannot teach someone to think critically or be proactive. Our personnel have varied backgrounds, experiences, and perspectives. Our hiring mentality, combined with real-world testing, ensures that we hire high-energy people who are detail-oriented, take the initiative, and can problem-solve. This allows us to be very specialized in what we do, and allows us to match the best possible candidate to the client and position. Our personnel are willing to help in any way they can. "No" or "That isn't in my job description" are things you will never hear from a J. Wilson & Associates professional.
We also maintain close relationships and open communication with our clients and regularly ask for feedback. We are equipped with many tools to provide technical editing, document control, and/or process management support for a variety of situations, including the ability to set up secure, dedicated client sites for remote work.
INTERESTED IN HIRING OUR PERSONNEL, BUT BASED IN ANOTHER CITY?
We're based in Houston, TX, but can support clients anywhere in the world and can even recruit local to clients in other cities.
Let us use our experience, innovative hiring practices, and real-world testing to find candidates local to you. We'll keep in touch with you and the candidate to ensure not only a successful placement, but also long-term success with your team. Communication and ongoing coaching for continuous improvement are key components of our process and help to make W&A professionals some of the best and most successful placements in the energy industry.
An important aspect of Project Management that you shouldn't overlook is understanding the formal and informal uses of social power within a team.  In this
Read More »