W&A Monthly Newsletter, April 2018: Finding the Future
By: John Wilson    
I remember once taking a trip to New Bedford to tour the waterfront and visit a whaling museum. It was a beautiful city and lovely waterfront, but underneath it was the corpse of an entire industry that once fed a lot of people and lit homes all over America. Whaling. I bet there was a time when no one could imagine it disappearing. Except, it did. Vanished. Almost overnight. There are a lot of people who think the same thing will happen to the U.S. oil industry. In fact, they're actively pursuing it with the push toward solar and wind power and electric cars.
But, they're hampered by a myopia peculiar to this country. They're a little disconnected from life. By that, I mean they work their jobs, live in nice homes, and go to the store to buy what they need without really understanding where all that stuff comes from. They've likely never seen a slaughter house, visited a factory, or done any of the myriad hard things that need doing when it comes to creating consumer goods. We've moved manufacturing overseas, placed food processing plants in the wilderness of the US, and done everything we could to distance people from the "how" of making their goods. They just expect them to be in the stores. We're a modern-day version of a Melanesian Cargo cult.
The other day I listened to a lady rail about the absolute need to ban fracking. This was at a meeting she drove to in her car wearing clothes made of synthetic material. The speaker did his best to talk her down and get her to understand there was a lot at play, but she was having none of it. She wanted fracking gone and the gasoline would just come from wherever when she pulled up to the pump. To her the bathwater was dirty and needed dumping and someone else could look out for the baby.
Continue reading the full article on our website
---
And the baby in this case is the hydrocarbon molecule and its characteristics that allow it to be made into things. It's probably pretty wasteful, actually, to burn it when it can be turned into clothes. Oddly enough, Mr. Maguire in The Graduate was on to something when he told Benjamin he had one word for him and it was, "Plastics." It pretty much defines the modern world, and the sun and wind won't be a substitute.
Having said that, however, I'm betting no carriage maker saw the car coming, no whaler thought much of kerosene, and Sears didn't expect Amazon. And I'm reminded of a Shell study I once read about long-lived companies. The bottom line was that most of them weren't in the same business they started out doing. In other words, they adjusted to changing times, which means times change. And just the other day I read a story in the Atlantic about the possibility of other civilizations existing on earth before humans. Given the time scales involved, its certainly possible. And the story even discussed the wide distribution of plastic as one way a future civilization might determine that we even existed.
I think the bottom line is we need to plan as though there may be no tomorrow. That will be hard. We've all sat around tables talking about wells and projects while trying to look into the future. It's difficult. There are those who refuse to acknowledge even the slimmest possibility an event might occur and those who become paralyzed by its possibility. There are even those who feel that scouting out risks is simply a waste of time altogether, better just to move forward and deal with events as they happen.
But planning is essential at a corporate level, a project level, and a personal level. The path needs to be mapped, the risks assessed, and plans developed. And even then, with all that preparation, totally unexpected things may happen that throw everything into a tizzy and leave us gasping for air; but, there should be a contingency for that as well. In the end its all about understanding that nothing is for sure and that the thing we don't know is what ultimately will be our undoing.
---
Employee Profile - James Denham
James graduated from Texas A&M University with a bachelor's degree in biology, a minor in genetics, and nearly a second minor in biochemistry. His strong affinity for scientific ventures would naturally lead to a career in the subject.
James began his professional career working as a technologist in a cytogenetics laboratory for the Baylor College of Medicine. This type of clinical laboratory specialized in diagnosing genetic abnormalities by analyzing the structure of a patient's chromosomes. James's role involved all steps of the sample setup and analysis processes. The laboratory position required attention to fine details and strict adherence to procedures. James was also tasked with updating the lab's written procedures to align with advances in technology. This was his first taste of Technical Writing. Although his duties focused more on his role as a cytogenetic technologist, James was surprised at how much he enjoyed developing new documentation for the laboratory. The directors of the laboratory noticed this inclination, and started allowing him to assist them with writing scientific papers for their independent research projects.
After four years working for the Baylor College of Medicine, James found his love waning for laboratory work and his interest in writing increasing. Around the same time, Wilson & Associates was looking for candidates to support a client at a chemical plant, an industry outside of their normal oil and gas industry. Confident that James's knowledge of chemistry and biochemistry would aid in their new endeavor, Wilson & Associates offered James the opportunity to work for them as a Technical Writer at DuPont. James's background in the sciences, strong problem solving abilities, and his ability to communicate with a wide array of personnel resulted in a success story.
---

Sharing in OneDrive
There's been a lot of talk about data migration recently, especially regarding moving files off of servers and personal computers and into "the cloud."  The cloud of choice appears to be OneDrive.
Last month someone came to me with a great question.  "How am I supposed to keep track of which files I've shared with others and which files others have shared with me?"
Tips:  You will only be able to see sharing details in OneDrive online, so start by going to www.Office.com which should open your Office365 landing page. Then, click on the OneDrive app.  On the left-hand side of the page, click on "Shared."  Up at the top you should see two options: "Shared with me" and "Shared by me."
Tricks: Under "Shared with me," select a file, and then click on the information icon (a circle around a lower-case i) in the top right corner of the page. A panel will appear showing you who shared the file with you.  Under "Shared by me," select a file, and then click on the information icon in the top right corner of the page.  A panel will appear as in the previous step, showing you who has access to the file.
To manage access to a file you have shared with others, click on the "Shared by me" tab, select the file, and then click on "Manage Access" at the top of the screen.  Clicking the drop-down arrow next to a person's name will give you the options to "Stop sharing," "Change to view only," or "Allow edit."
Don't hesitate to use the Contact Us form on our website to submit requests for more Tips & Tricks regarding data migration, OneDrive, or any other app your team has questions about.
---
Versioning in OneNote
I was recently working on a page in MS OneNote that I had copied from a similar page.  Or at least I thought I was working on a copy.  As it turns out, for several days I had been writing over a long page of previous work.  After a few seconds of frantic searching and disbelief, followed by kicking myself for using the server and not "the cloud" to store my notebook, I decided to right-click on the page to see what my options were.  Sure enough, someone with Microsoft had anticipated my dilemma.  At the bottom of the menu I found "Show Page Versions."  I was able to see all previous versions of the page and copy the version I wanted to the appropriate notebook tab.
Tips:  When using OneNote, especially a notebook that is shared with a team of people, feel reassured that you won't lose your work due to someone writing over something.  There is redundancy in place.
Tricks:  Right-click on a page to see a menu of available options.  You should see "Show Page Versions" down at the bottom.  If this option is not available, then you are looking at the only version.  Select a version to see the page on different dates.  Right-clicking on a version of interest gives you the options below: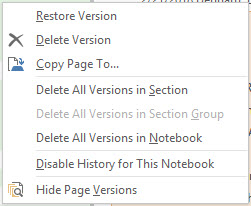 Figure 1
When finished, you can right-click on the page and select "Hide Page Versions" to tuck them away again for safe-keeping.
Final step:  breathe a sigh of relief.
In Office365, we've noticed an increase in the number of apps that combine application technologies – take MS Teams for example.  Thankfully, many of these applications have been given some of the most useful features of their individual predecessors, like SharePoint's versioning being incorporated into OneNote per this example.
Get more Tips & Tricks in the online archive on our website as they are added with each new newsletter.
---