Wilson & Associates Monthly Newsletter, June 2017
The Benefits of a Standardized Process  
While it may seem easier to the individual to use a personalized process in the work place, using a standardized (and well thought out) process saves a company time and money in the long run and makes it easier for team members to seamlessly move between projects.  This is compounded when collaboration, technology, and computers enter the equation.  There is nothing inherently bad about being unique, and doing things the way you are comfortable doing them is great.  Creativity is a good thing.  In modern offices and work settings, however, a lot of time and thought goes into what is seemingly the tiniest of details.  Some examples of those "tiny details" may include: where to save that file you are working on, what software to use, and even how and when to solicit comments and feedback.  It may sound trivial, but having everyone on your team operating under the same process every time is extremely valuable.
The problem with each person having an individual process is not with the individual.  It all makes perfect sense and, after all, it just works right. Files are exactly where you left them, your programs work (most of the time), and you just find it easier to send that document as an attachment and ask for comments that way.  But when everyone has their own individual way of doing things, consistency is sacrificed and what results is almost always counter-productive to the broader team's success. 
Continue reading the full article on our website
---
Some work groups have upwards of several hundred people and what makes logical sense to one person or team may be the opposite way that another team member approaches the issue.  This creates confusion, frustration, and ultimately wasted time and money. According to the Project Management Institute, "high-performing organizations are three times more likely than low performers to use standardized practices."[1]

While it is true that creating and implementing a standardized process takes a considerable amount of thought, planning, and execution, once the process is in place the cost savings generated are real and recognizable.  Teams and individuals will need to be trained on how to properly execute a standardized process, and one way to overcome those training hurdles is to work with "process owners" to standardize the task and break it down into individual steps.  And, by breaking a task down into individual steps (to standardize them) you might just come up with a better way to perform the task to begin with.
[1] httpss://www.pmi.org/learning/PM-Network/2014/standardized-processes-mean-success.aspx
---
Quarterly Profile: Chelsea Larsen
At J. Wilson and Associates, Inc. we take a lot of pride in the diversity of experiences and skill sets that make up our highly successful team. This quarter we're highlighting Technical Editor, and W&A Legal Counsel, Chelsea Larsen:   
Chelsea began her career working in education where she had many opportunities to fine tune her editing skills. During this time she also gained experience with other types of communication, namely legal writing, through her work with the Criminal Justice Centers of both Harris and Fort Bend Counties, and in her years as a law student. She also had the unique experience of working in the Super Bowl Media Center which exposed her to the world of public relations and communication. This wide variety of practice with both written and verbal communication play into Chelsea's success in her role as a Technical Editor.
Chelsea started at W&A in 2013, learning the ropes of the energy industry as a technical editing consultant for a small analytics company that was drafting reports on renewable energy resources. In that role, she was introduced to the language of engineers and quickly realized the importance of her responsibility to assist them in communicating very complex, technical concepts in a manner that could be clearly understood.
---

Customizing your Quick Access Toolbar
Following up from last month's Tips & Tricks, this one will cover another way to increase your efficiency in MS Word and hopefully at the same time reduce your chance of sustaining a repetitive stress injury by reducing some mouse-clicks.
Many us spend a lot of our day working with documents, from refining a well program to writing Tips & Tricks for an eNewsletter. There can be a lot of repetition of certain actions during this process, such as frequently using the format painter, or in my case, Paste Special.
Tips:
Add features frequently used in MS Word to your Quick Access Toolbar. Or, see the Tips & Tricks from last month on how to create keyboard shortcuts for frequently used features.
Tricks:
1.  Take a look above the ribbon and above the tabs where the Save and Undo icons are. This toolbar is called the Quick Access Toolbar. Over to the right, at the end of that row, you should see a very small drop-down arrow.

Figure 1
2.  Click that drop-down arrow, and select More Commands. (You can also click File > Options > and select "Quick Access Toolbar" from the left panel).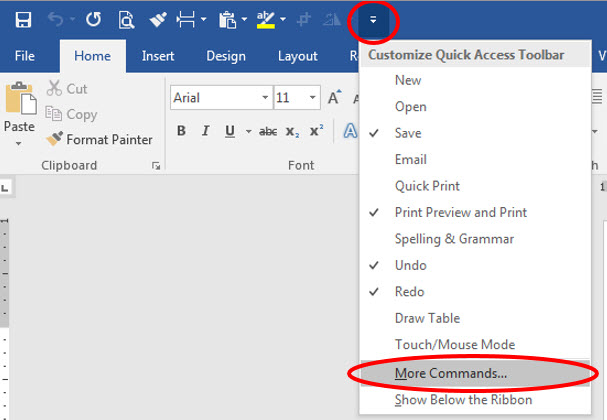 Figure 2
3.  Under the "Choose commands from" drop-down, select Popular Commands (the default selection), or choose another option from the list, such as a command that is on a specific tab.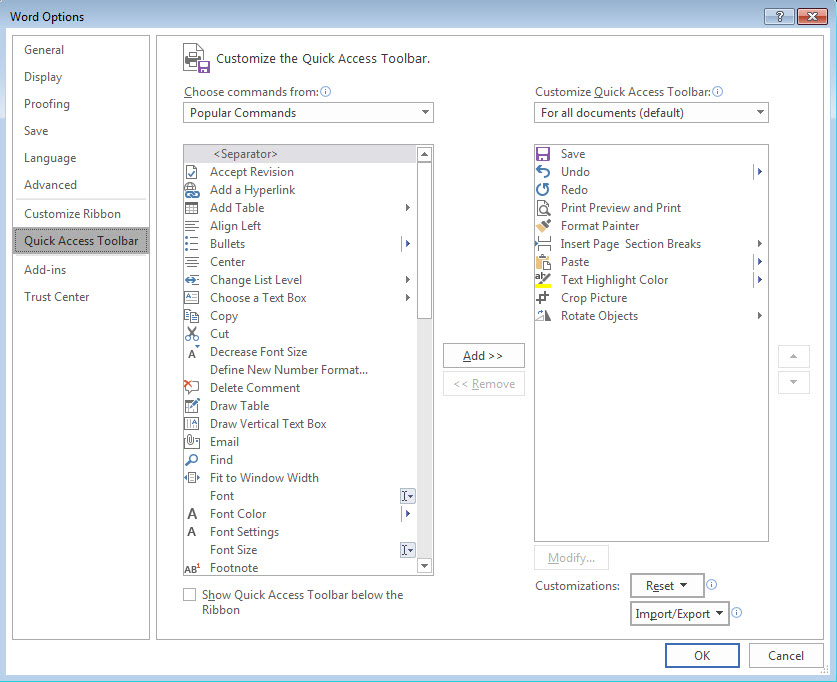 Figure 3
4.  Select the features you want from the list and click the "Add > >" button.
5.  Click OK when done.
The features should now be displayed for easy access in your Quick Access Toolbar.
Get more Tips & Tricks in the online archive on our website as they are added with each new newsletter.
---
Use Signatures to Insert Templates in Outlook
Do you find yourself frequently sending similar emails or emails regarding certain topics? Do you typically pull out a past version from your sent mail and make small adjustments as necessary? There's an easier way!
Tip:  Use Signatures in Outlook to create templates that you can easily pop into an email.
Tricks:
1.  In Outlook, draft the email that you frequently send.
2.  Next, copy the contents of that email.
3.  Go to File > Options.
4.  Select Mail in the left panel, and then click the "Signatures…" button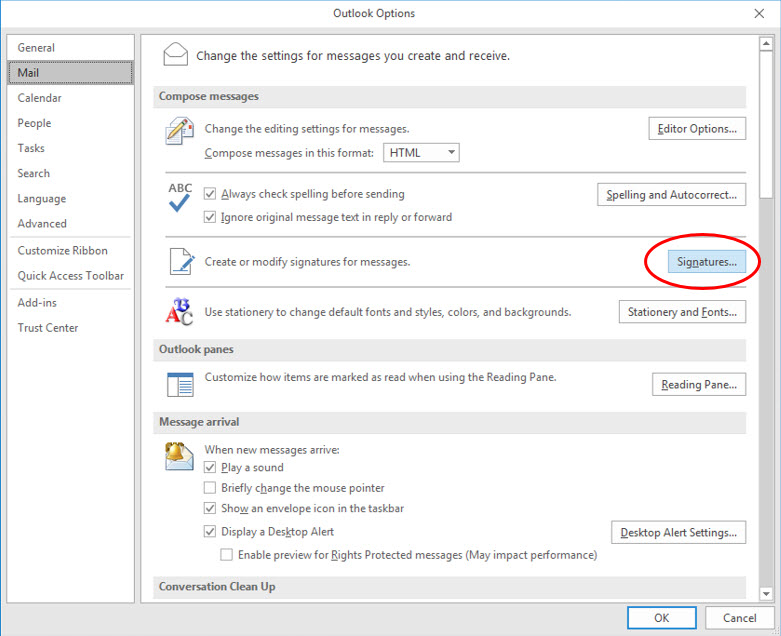 Figure 1
5.  Click the "New" button.
6.  Type a name for this Signature when prompted, then click OK.
7.  Paste in the contents that you copied from the email you drafted.
8.  Click OK. Then, click OK again.
9.  To test, click the New Email button to start a new email.
10.  On the Message tab, in the ribbon, click the drop-down under the Signatures button (or in earlier versions of Outlook, go to Insert > Signature).
11.  Select the new Signature you created from the list.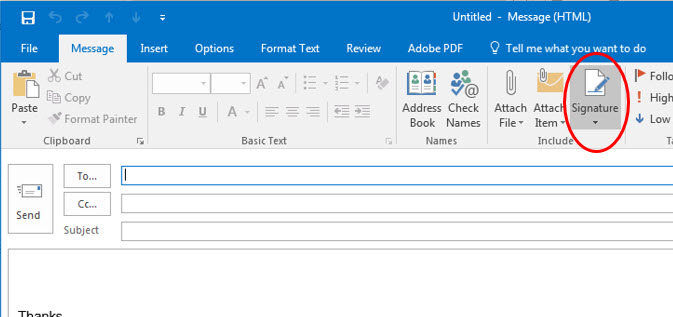 Figure 2
Get more Tips & Tricks in the online archive on our website as they are added with each new newsletter.
---