Wilson & Associates Monthly Newsletter, May 2017
Quarterly Profile: Chelsea Larsen   
At J. Wilson and Associates, Inc. we take a lot of pride in the diversity of experiences and skill sets that make up our highly successful team. This quarter we're highlighting Technical Editor, and W&A Legal Counsel, Chelsea Larsen:   
Chelsea began her career working in education where she had many opportunities to fine tune her editing skills. During this time she also gained experience with other types of communication, namely legal writing, through her work with the Criminal Justice Centers of both Harris and Fort Bend Counties, and in her years as a law student. She also had the unique experience of working in the Super Bowl Media Center which exposed her to the world of public relations and communication. This wide variety of practice with both written and verbal communication play into Chelsea's success in her role as a Technical Editor.
Chelsea started at W&A in 2013, learning the ropes of the energy industry as a technical editing consultant for a small analytics company that was drafting reports on renewable energy resources. In that role, she was introduced to the language of engineers and quickly realized the importance of her responsibility to assist them in communicating very complex, technical concepts in a manner that could be clearly understood.
Continue reading the full article on our website
---
During her years of legal work she had grown accustomed to "legalese," the language used in case law, contracts, and other material primarily written by judges and lawyers. After three years of exposure to legal vernacular in law school, she understood how to identify an issue or comprehend an argument by sifting through sentences that contained far too many words and used an unnecessary amount of punctuation. She often thought, "Well, as long as I can understand it…," an idea that continues to add to the frustration of those untrained in the language of the law.
Similarly, engineers, just like lawyers and judges, assume that because they understand their writing style, everybody else will, too. This thought process is what shaped Chelsea's approach to both legal and technical writing – the idea that the content has no relevance if it cannot be understood. She also learned that her position does not require her to simply sit at a desk and revise documents all day, but to also engage with the teams she supports and attend workshops and reviews where the substance of the documents she touches originates.
For the past three years, Chelsea has also served as W&A's General Counsel.  When she accepted the job, that concept of clearly written communication translated well in her work advising the company on a myriad of legal matters. She saw that the same attention to detail necessary for writing requirements for wellsite leaders on a drilling rig was just as vital in drafting contracts on behalf of the company.  If the language wasn't clear, dire consequences could result, such as an injury on a rig due to an ambiguous requirement, or being dragged through litigation because of a loophole in a contract.
In addition to her legal responsibilities, Chelsea continues to work as a Technical Editor, having since moved from the small analytics company where she started to a super major in the energy industry. As she's had to expand her scope of legal knowledge as General Counsel, so, too, she's expanded her scope as a Technical Editor, establishing editorial standards for the technical editing team, helping create more simplified and efficient processes for document development, and authoring requirements documents for use in the global organization.
Performing both roles in parallel keeps her plate consistently full, and because the concepts in law and energy are so drastically different, this can seem a bit daunting at times.  However, throughout her professional career, Chelsea has learned that for her at least, less is certainly not more.
---
Details, Details…
Why Attention to Detail is a Vital Skill  
By: Laura Kilgore  
One slip of the finger and a significant word is misspelled. One forgotten step in a project, one skip of the eyes over a word in an email, and I'm left embarrassed and feeling the need to prove my competency. We've all been there. We've all asked ourselves 'how did I miss that?' Especially for those of us working in detail-oriented roles, it is imperative that we hone our ability to catch these mistakes.
While my experience with detail-awareness comes from working as a Technical Writer and Editor, this vital skill is applicable in every industry, especially those in which human and environmental safety can be at stake. There are several reasons we should all learn to slow down and take a second, or even third look before we call a job done.
First, and most important, a keen eye for details improves accuracy and reduces risk, preventing potential injuries and destruction of property. A paratrooper about to jump out of an airplane is going to carefully check every detail of his parachute since he'll be entrusting his life to it. The same goes for operations on an oil rig, where accidents can occur if someone overlooks some policy or skips over one little detail in a procedural step. These accidents can result in injury, property damage, or much worse.
On a slightly less-significant level, a poorly read or written email can lead to misunderstandings. These misunderstandings can affect office relationships, team projects and timelines, and even the entire business process. Reviewing a memo before sending it out can prevent confusion or the replication of faulty information.
On the positive side, carefully edited information has the power to improve overall company efficiency. By removing confusing factors in verbal or written communication, projects will flow more efficiently and deadlines will be more easily met. Office relationships can also benefit from clearly expressed thoughts and ideas.
---

Keyboard Shortcuts
Many of us spend a lot of our day working with documents, from refining a well program to writing Tips & Tricks for an eNewsletter. There can be a lot of repetition of certain actions during this process, such as frequently using the format painter, or in my case, Paste Special.
Tip:
Creating a keyboard shortcut (or Hot Key as some call them) can save you a lot of time and hassle.
Trick:
1.  In MS Word 2010, 2013, and 2016, click the File tab and then click Options.
2.  Next, select Customize Ribbon.
3.  Then, at the bottom of the box where it says "Keyboard shortcuts," click the button that says "Customize."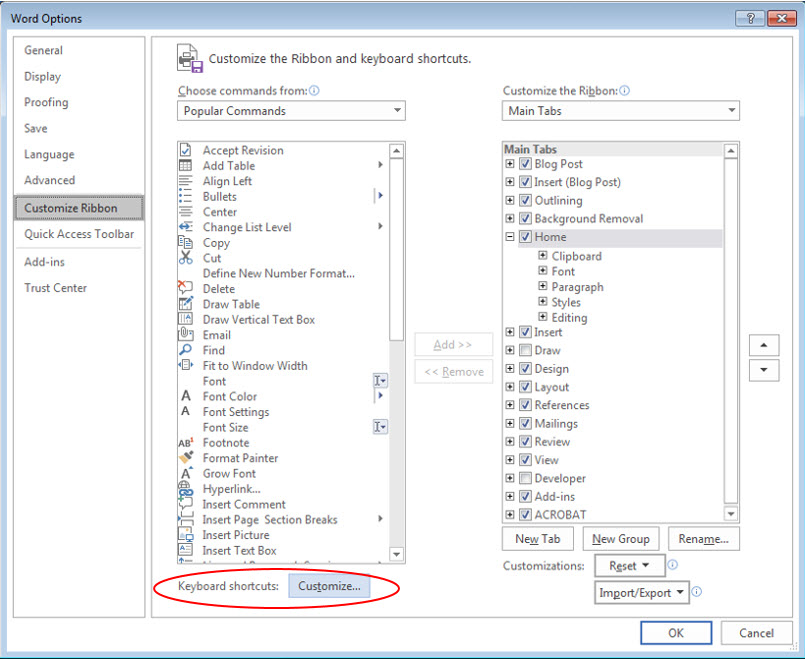 Figure 1
4.  Clicking the Customize button brings up the box shown in Figure 2.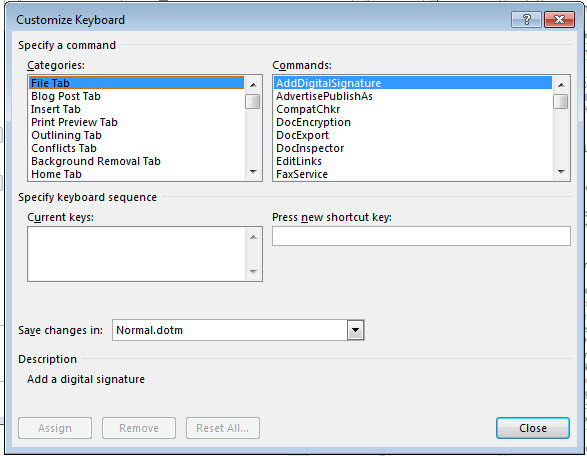 Figure 2
5.  Under the Categories column, select the tab where the command you want to create a keyboard shortcut keystroke for resides on. For example, the Format Painter and Paste Special options reside on the Home tab.
6.  Once you select the main tab under Categories, search for the command you want to create a keyboard shortcut keystroke for under the Commands column.
7.  Once you make your selection, existing keyboard shortcuts will appear in the Current Keys box. If one needs to be created, type it into the "Press new shortcut key" box, e.g., press CTRL plus the key that you want to use: Ctrl+___, or Ctrl+Shift+__.
8.  Click "Assign".
Get more Tips & Tricks in the online archive on our website as they are added with each new newsletter.
---
Got Feedback?
After almost a year of Wilson & Associates eNewsletters, we'd love to hear what our 800+ subscribers think.
Are the articles interesting and relevant to you? Are you learning strategies for reducing your Office NPT? Is there anything you would like to hear more of? Send any feedback our way through the Contact Us form on our website.
Tips:
We'd love Tips from you!  Send us your feedback on the monthly newsletter, suggestions for topics, or anything you would like to hear more of through the Contact Us form on our website.
---